Heather and Megan are hosting a block party! I think a face to face block party would be great–that is kind of what I envision the Sewing Summit will be like.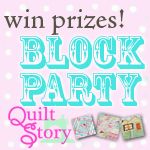 Here are my three blocks:
Traditional Friendship Star
Modern City Grid (Mod Mosaic) Block
Creative: Two Trees
I am participating in a Virtual Quilting Bee. These are not fabrics I would usually choose, but as soon as I saw them, I knew exactly what I was going to make.